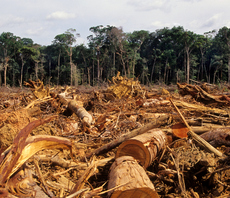 Politicians, green business groups and campaigners broadly welcome calls to embed nature considerations more deeply into economic decision making
It has been compared to the hugely influential Stern Review on the Economics of Climate Change 15 years ago, which famously framed global warming as the greatest and most wide-ranging market failure ever seen.
Today a 600-page Review on the Economics of Biodiversity aims to similarly influence opinion on how best to turn the tide on the ongoing destruction of the natural world, which it warns threatens the wellbeing and livelihoods of humanity unless transformative action is urgently taken to address market and governmental failures.
Commissioned by the UK government but taking a global perspective of the growing biodiversity crisis, University of Cambridge economist Professor Sir Partha Dasgupta has offers a first-of-its-kind assessment of the relationship between biodiversity and economics, as well as a stark warning about the impacts of societal systems on the planet's wildlife and resources.
Broadly speaking, it argues biodiversity and the natural world should be more deeply embedded into economic decision making, and makes the case for valuing nature's precious resources in economic terms in order to bolster and unleash funding towards protection efforts.
Here, BusinessGreen rounds up all the reaction from across green economy to today's landmark Dasgupta Review.
Sir David Attenborough said:
"The survival of the natural world depends on maintaining its complexity, its biodiversity. Putting things right requires a universal understanding of how these complex systems work. That applies to economics too. This comprehensive and immensely important report shows us how by bringing economics and ecology face to face, we can help to save the natural world and in doing so save ourselves."
The Prime Minister Boris Johnson said:
"This year is critical in determining whether we can stop and reverse the concerning trend of fast-declining biodiversity. I welcome Professor Dasgupta's Review, which makes clear that protecting and enhancing nature needs more than good intentions – it requires concerted, co-ordinated action. As co-host of COP26 and president of this year's G7, we are going to make sure the natural world stays right at the top of the global agenda. And we will be leading by example here at home as we build back greener from the pandemic through my 10 Point Plan."
Environment Secretary George Eustice said:
"If we want to realise the aspiration set out in Professor Dasgupta's landmark Review to rebalance humanity's relationship with nature, then we need policies that will both protect and enhance the supply of our natural assets. This is what lies at the heart of the government's 25-year environment plan, our approach to future farming policy, efforts to embed biodiversity net gain in the planning system, and other initiatives such as £3bn for climate change solutions that restore nature globally and our new due diligence law to clean up our supply chains and help tackle illegal deforestation."
WWF chief executive Tanya Steele said:
"The findings of the Review are clear: nature underpins our economies and our prosperity. Our failure to recognise this fundamental truth, and take steps to reverse nature loss, is costing us dear. To safeguard our future, we must transform our economies and finance systems, so they are geared towards restoring the natural world on which we all depend.
"Our climate and nature goals need to become a core part of how decisions are made on all aspects of policy – and in particular economic and fiscal policy, with a test to make sure public spending aligns with the government's net zero commitments. We also need the UK government to throw its full weight behind establishing a new Global Commission on Economy and Nature – because if we're going to succeed, we need to see countries working together to tackle this enormous threat."
Professor Lord Nicholas Stern, Professor of economics and government at LSE and chair of the Grantham Research Institute on Climate Change and the Environment said:
"The Dasgupta Review shows that we are taking out much more from the Earth than it can stand, we are running it down fast, and we will pay the price. With its clear, comprehensive and conceptually well-founded framework, it provides the foundation for urgent action needed now to tackle the interconnected challenges of climate change and biodiversity loss."
Kristalina Georgieva, managing director of the International Monetary Fund (IMF) said:
"The Dasgupta Review comes at an opportune time for the world economy, with many governments thinking about how to embark on a more equitable, greener, and sustainable development path. Professor Dasgupta makes a most compelling case for economists and policymakers to place our biosphere and biodiversity on an equal footing with human and physical capital. The Review is a must-read for all global citizens interested in supporting efforts to tackle climate change and safeguard our world for future generations."
Mark Carney, UN Special Envoy for Climate Action and Finance and former Bank of England Governor said:
"Ecosystems that have more diverse natural assets are more productive, resilient and adaptable. Just as diversity within a financial portfolio reduces risk and uncertainty, greater biodiversity reduces risks and uncertainty within a portfolio of natural assets. As we awaken to the importance of natural capital, we need to place greater value on sustainability and biodiversity – the precondition to solving the twin crises of biodiversity and climate."
Sarah Mukherjee, chief executive of the Institute of Environmental Management and Assessment (IEMA) said:
"Evidence for the disruption to our natural world is all around us, reinforced by the findings of a multitude of substantive reports and compellingly revealed in Sir David Attenborough's Perfect Planet. This is the context for the launch of the Dasgupta Review. The costs of destruction, economically and morally, are too great to bear and the benefits of a establishing a new economic framework that enables us to live in harmony with the natural world are becoming increasingly clear.
"Sir Patha Dasgupta's review into the Economics of Biodiversity has the opportunity to reframe economic policy and should trigger urgent action. IEMA members are at the heart of a transition to a more sustainable, zero carbon economy; Sir Patha's review is more powerful evidence of how vital this transition is."
Bank of England Governor Andrew Bailey said:
"I welcome the publication of the Dasgupta Review which like the Stern Review on the climate in 2006 represents a landmark contribution to our understanding of the relationship between nature and our economy. Since 2015 the Bank has been focussed on the financial risks generated by climate change and the Dasgupta Review is clear that protecting and enhancing biodiversity will help us address climate change. We are engaging with other central banks and the Network for Greening the Financial System on these issues and it is clear to me that the solutions to the climate-related challenges we face must also benefit nature. As the report makes clear, it is our most valuable resource."
Dr Nina Seega, research director for sustainable finance at the Cambridge Institute for Sustainability Leadership (CISL) – and also part of the peer review team for the Dasgupta Review – said:
"The Dasgupta Review's focus on completely rewiring mainstream economic and financial models is key to moving the nature debate onto the agenda of governments, financial regulators and individual financial firms. It is especially pertinent to take the opportunity presented by the Covid-19 crisis to reflect on and align the underpinnings of our economic and financial system with a sustainable future.
"However, if we are to learn from the climate journey, we cannot rely on public policy and financial regulation alone to deliver change at the pace required. From the very start, a more structural involvement of private financial capital needs to be mobilised – alongside blended capital, supported by multilateral development institutions. This requires action from private financial institutions and global corporations that includes: embedding nature in their operational and business strategies; understanding, measuring and managing nature-related financial risks; calculating the impact of their activities on nature as well as directing capital towards nature-based solutions.
"The review provides us with a firm foundation for this work and enables us to move from commitment to nature restoration and protection to fully embedding nature in our economic and financial systems."
Rt Hon Philip Dunne MP, chair of Parliament's Environmental Audit Committee, said:
"Professor Dasgupta's report should serve as a wake-up call for us all. While as humans we have prospered in recent decades, it is not without cost, and it has been nature that has beared the brunt of our choices. We are part of nature, and have taken it for granted with precious ecosystems at 'tipping points' and endangered species facing extinction.
"Professor Dasgupta has been clear that action is needed now to reverse these frightening trends. It makes economic sense rather than leaving it too late which would be even more costly to address. Nature must be seen as integral in our economy – in the same way infrastructure such as public transport and buildings are. He rightly acknowledges that COP15 and COP26, both due to be held this year, offer a unique opportunity to hit the reset button on biodiversity loss and climate change mitigation."
Inger Andersen, UN Under-Secretary-General and executive director of the UN Environment Programme said:
"The message from the Dasgupta Review on the Economics of Biodiversity is loud and clear: we must fix our relationship with the natural world or destroy human prosperity, well-being and our future. And it is with this knowledge in hand that in 2021 we must seek to join up the climate and nature agendas, and arrive at an ambitious, measurable and accountable post-2020 global biodiversity framework. To secure nature is to invest in our own self-preservation."
George Monbiot, journalist and environmental campaigner:
It arises from a system that cannot tell the difference between protecting the living planet and commodifying it. The colonial relationship between nations has long been mirrored by our colonial relationship with nature. This is its ultimate expression.
— George Monbiot (@GeorgeMonbiot) February 1, 2021
Sunny Verghese, co-founder and chief executive of Olam International, and Chair of the World Business Council for Sustainable Development (WBCSD) said:
"Now more than ever, it is vital to recognise the interdependence of protecting our natural resources and improving social equality alongside global prosperity. Economic growth and sustainable development must not be viewed as a binary choice. Businesses and policymakers must urgently and collectively work to drive changes that will conserve our world now and for the future. Businesses must accelerate their reporting to account for their natural and social capitals, while governments must establish clear policies to promote and incentivise investment to conserve our natural world. The Dasgupta Review shows clearly that if we are to reverse – and restore – the negative impacts on our planet and people, we cannot wait to do the right thing."
Ken Murphy, Tesco chief executive said:
"We know that our long-term success depends on the health and stability of our natural environment. That means adopting sustainable agriculture practices that protect water resources, biodiversity, climate and soil health, and playing our part in addressing the environmental impact of food production and consumption on a global level. We welcome the timely publication of the Dasgupta Review, which clearly lays out the economic case for rebalancing our relationship with nature."
Professor Joseph E. Stiglitz, Nobel Laureate, Columbia University Professor and chief economist at the Roosevelt Institute said:
"We are living beyond our planetary boundaries, which is obviously unsustainable. Most recognise the consequences of climate change, including on our wellbeing, and actions have been taken, although not enough. But there is a much bigger picture, and for the first time a major government review addresses it. While called 'The Economics of Biodiversity' – conducted by the world's leading economist on ecology, economics, and growth and development, Sir Partha Dasgupta – it is about biodiversity writ large, and how we as humans can live within a sustainable ecology. The report describes forcefully the destruction to the biosphere we have wrought in the past century. It provides an important measure by which we can gauge what we are doing – whether inclusive wealth is increasing or decreasing. It outlines the actions that have to be taken. It is not sanguine that technology by itself will save us. It provides, for the first time, a framework for the difficult global discussions we must have on how to restore sustainability, not just in climate but in all dimensions of the environment."
Read more: businessgreen.com