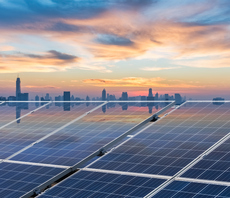 Green business groups and campaigners welcome higher 2030 emissions reduction goal, but call for ambitious policy and funding to put the UK on a net zero pathway as soon as possible
The UK will soon have one of the most stretching near-term climate goals of any developed nation, with Boris Johnson today confirming a target to cut greenhouse gas emissions by 68 per cent below 1990 levels over the next decade.
The new 2030 target is a hugely important signal both domestically and on a global stage that the UK intends significantly accelerate decarbonisation of its economy over the next 10 years, and will require a raft of ambitious policy and investment plans in the coming months in order to get deliver the target, with home heating, heavy industry and transport likely to see major changes in the 2020s.
It has been announced as a key pillar of the UK's first individual Paris Agreement plan, or nationally-determined contribution (NDC) in UN jargon, with its previous global decarbonisation pledges to the UN having formed part of the European Union's NDC.
Setting a higher climate ambition has been widely called for by businesses, political figures and green campaigners alike, and is seen as a hugely important diplomatic gesture to encourage other nations around the world to follow suit in the run up to COP26 in Glasgow next year. Some, however, have also argued the UK should go even further and faster, while also noting the huge gaps in green policy that urgently needs filling in order to achieve the goal.
Here BusinessGreen rounds up all the top reaction from business leaders, political figures, policy experts, investors and environmental groups on the landmark announcement.
The Prime Minister, Boris Johnson, said:
"We have proven we can reduce our emissions and create hundreds of thousands of jobs in the process – uniting businesses, academics, NGOs and local communities in a common goal to go further and faster to tackle climate change. Today, we are taking the lead with an ambitious new target to reduce our emissions by 2030, faster than any major economy, with our Ten Point Plan helping us on our path to reach it.
"But this is a global effort, which is why the UK is urging world leaders as part of next week's Climate Ambition Summit to bring forward their own ambitious plans to cut emissions and set net zero targets."
Business and Energy Secretary and COP26 President Alok Sharma said:
"Tackling climate change is the one of the most urgent shared endeavours of our lifetimes, demanding bold action from every nation to prevent catastrophic global warming. As a country, we have demonstrated we can both rapidly cut carbon emissions, while creating new jobs, new technologies and future-proof industries that will generate economic growth for decades to come.
"The UK's new emissions target is among the highest in the world and reflects the urgency and scale of the challenge our planet faces. I hope other countries join us and raise the bar at next week's UN Climate Ambition Summit, and ahead of the COP26 climate conference in Glasgow next year."
Rain Newton-Smith, CBI chief economist, said:
"At a time when the eyes of the world will be on the UK as host of the forthcoming COP26 summit, the commitment to this extremely ambitious target is hugely welcome and puts Britain front and centre as a leader in tackling the climate crisis.
"While delivering a 68 per cent reduction in emissions by 2030 undoubtedly represents a real stretch, there is no doubt that business is up for the challenge as we build back better and greener following the pandemic. Publishing the forthcoming Energy White Paper as soon as possible, and moving with speed, determination and greater ambition to deliver the policies in the government's ten-point plan, is essential to our success."
Ed Matthew, COP26 co-director for The Climate Coalition said:
"It is notable that the UK has set a 2030 target which is a step up in ambition and in line with its legal duty to achieve net-zero emissions by 2050. This is important progress but not sufficient. A more ambitious cut is both feasible and necessary to keep us safe and reflect our massive historic carbon emissions. We must remember too that the climate will not respond to targets, it will respond to carbon cuts. It is action that counts."
WWF chief executive Tanya Steele said:
"It's great the UK is raising its ambition on emissions reduction: the faster we move now, the faster we reap the benefits not only for the climate but in good jobs, cleaner air and a competitive edge for UK businesses in a fast-growing sector.
"Of course we know we could go even further, but this is a huge step in the right direction. We now need the policies in place to achieve this target, if we're going to lead and inspire the whole world to meet the ambition of the Paris Agreement."
Laurence Tubiana, CEO of the European Climate Foundation said:
"This commitment from the Prime Minister can now underpin his personal efforts to seek similar moves from his counterparts in the run up to the Glasgow Summit next year. Of course it will be necessary to put in place the detailed plans to deliver on this commitment with investments in areas ranging from greener steel production to farming and clean heating technologies, but other countries can draw confidence from Britain's leadership and example in setting a 2030 target consistent with net zero. International attention now turns to the United States, China and other major economies to take similar steps by COP26."
Ed Miliband MP, Labour's Shadow Business Secretary said:
"We welcome the important strengthening of the 2030 UK target. But we believe this is the minimum we should aim for. Our goal should be to go further and faster, cutting the significant majority of emissions in this decisive decade, which is the right way to lead in creating the climate jobs of the future and keeping global warming below 1.5 degrees.
"As we move to this higher target, it is clear there is now a yawning gap between the government's aspirations and its policies to deliver them. The government didn't have the policies to meet their previous target and the chasm will be even greater now.
"So now we urgently need a plan with the policies to tackle the climate emergency and to do so in a way that creates jobs and is fair. That should start with a £30bn stimulus to be invested in a green recovery over the next 18 months to tackle the unemployment crisis we face and kick-start the measures necessary to tackle the climate crisis."
Sonam P Wangdi, chair of the Least Developed Countries Group in the UNFCCC, said:
"The UK has spanned the spectrum of leadership in past weeks, from a low of cutting ODA funding to a high of submitting an enhanced climate pledge. We welcome the latter. Their climate pledge provides a strong impetus for other major economies to follow suit. Now, the hard work begins. The UK must make its climate pledge real with policy and finance. Leadership demands consistency. We look forward to theirs."
Nick Mabey, CEO of E3G, said:
"While there is room for more ambition, the UK's higher climate target puts pressure on the rest of the world to rise to the climate challenge ahead of the 12th December Climate Ambition Summit. The UK has seized the opportunity to set an unmistakable direction of travel, hopefully inspiring other countries to set ambitious climate targets to close the 1.5C gap.
"The EU will be in the spotlight next week when leaders debate a 55 per cent climate target. Failing where the UK has succeeded would be hugely embarrassing internationally, and a significant setback to the EU's aspirations for its Green Deal. As a neighbouring country facing similar challenges with the net zero transition, the UK's commitment should give EU leaders a boost of confidence to adopt the 55 per cent target without hesitation.
"The UK's new climate target clearly considered incoming US President Biden. With the US returning to the Paris Agreement, the UK's target lays climate as the foundation for rebuilding the special relationship. The US is due to set its own NDC in 2021 and this marker from the UK sets a high bar for the White House."
Darren Jones MP, chair of the Business, Energy and Industrial Strategy Committee, said:
"The PM's announcement is welcome and sets a positive direction for the UK to achieve net zero. We look forward to seeing the roadmap to meet this target and more details on how the government will deliver on the PM's 10-point plan. It's vital the UK shows action at home and leadership abroad to bring other countries with us in making ambitious climate change commitments in the lead up to COP 26 in Glasgow.
"Getting to net zero will require all of government to play a role and I hope this target will kick-start a co-ordinated drive across all departments to put in the joined-up policies, measures, and actions to get to net zero. I hope we will also see from government a commitment to tackling international aviation and shipping and a focus on how we might incorporate these formally into UK's emission reduction targets."
Richard Black, director of the Energy and Climate Intelligence Unit (ECIU), said:
"The UK's NDC has been a long time coming, and it's important that government is publishing it before the end of 2020, living up to the commitment that all countries made in the Paris Agreement.
"While the level of ambition won't please all campaigners, this is the most significant NDC announcement so far from any major economy, increasing the pace of carbon-cutting by about 50 per cent and accelerating opportunities for companies in low-carbon sectors. Meeting it would put the UK on track to delivering on its net zero target for 2050, and sets down a marker for other prosperous nations regarding their own minimum level of NDC ambition.
"The huge falls seen in the cost of renewable energy and batteries mean that decarbonisation is turning out to be cheaper than anyone thought just a few years back, while concern about climate change is rising in many countries – so it would be logical to expect other nations to come forward now with a degree of ambition similar to or higher than the UK's."
María Mendiluce, CEO of the We Mean Business coalition, said:
"The UK's decision to increase its climate ambition in line with the goals of the Paris Agreement is a major step forward and shows strong leadership when it's needed most. It also sends the right signal to business, giving them the confidence they need to invest in the zero-carbon transition at speed and scale. To maximize competitiveness and job creation the UK must provide business with a clear roadmap on how these targets will be achieved that incorporates finance and ensures a just transition. Bold and ambitious climate policies help boost competitiveness, jobs and build a green recovery, when backed with the right policy framework. All countries should step up their climate ambition and ensure we are on track to fulfill the promise of the Paris Agreement."
John Sauven, executive director of Greenpeace UK, said:
"The Prime Minister is right to have set one of the most ambitious climate targets in the world. But given the urgency of the climate crisis and the rapid advances in zero carbon solutions, ambition can be pushed even higher over the next decade.
"The government must now increase the action needed to cut emissions from our homes, roads, farms and power sources in the UK. If we want the future to look as different as possible from the crises-ravaged world of 2020, then tackling the climate emergency, rebooting the economy and creating thousands of new green jobs is the only real option."
Eliot Whittington, director of The Prince of Wales's Corporate Leaders Group, said:
"This is an important step forward and a positive signal for nations looking for leadership towards COP26. By raising ambition for the UK's 2030 emissions target the Prime Minister is indicating his ongoing commitment to action on climate change. 
"Other countries are also developing plans and actions to secure their space in growing industries like renewables, as the race to the green economy gets going. This serious commitment from the UK government must now be translated into action by developing the Ten Point Plan into a net zero strategy that puts the UK in pole position for the green economy and on track for delivering our world leading targets."
Shaun Spiers, executive director of Green Alliance, said:
"This commitment to a more ambitious emissions reduction target for 2030 is a good first step towards putting the UK on track to net zero and is a valuable signal of ambition for the host of next year's UN climate conference. Every department of government now needs to get on board and implement clear policies to promote rapid decarbonisation. And the Treasury must provide the support necessary to enable them to deliver.
"Rapid domestic action on climate change will also help the economy to recover from the Covid crisis and develop long term resilience, with new low carbon industries and jobs. Today's announcement lays the foundation for the even greater ambition we need to see over the next decade if the UK is to fulfil its fair share of global mitigation efforts."
Signe Norberg, head of public affairs and communications at the Aldersgate Group, said:
"It is welcome to see the UK announce a NDC which aligns with the Climate Change Committee's advice and paves the way for achieving our net zero emissions target by 2050. As host of COP26, the UK should galvanise international action on emissions reductions, setting an ambitious precedent for other to follow. For today's commitment to be credible and facilitate business progress towards decarbonisation, it needs to be paired with a comprehensive and joined-up net zero strategy which builds on the Prime Minister's 10 Point Plan."The government now needs to back this up with clear domestic measures to drive down emissions in hard to abate sectors, such as heavy industry and long-distance transport, and in sectors that are currently not covered by the NDC like shipping and aviation. Creating a robust regulatory framework and the market mechanisms to facilitate at-scale deployment of key technologies will be essential in the months to come."
Julie Hirigoyen, chief executive of the UK Green Building Council (UKGBC), said:
"We applaud the leadership shown by the UK government with this announcement, which is rightly ambitious and sets an appropriately high bar for others to follow. It is aligned with the growing number of business commitments and science based targets, which provides a mutually reinforcing confidence that public and private sector are moving in the same direction.
"Businesses in the built environment sector – which is so critical for emissions reductions – must stand ready to deliver solutions at scale that will help the UK meet these targets. But to do so will depend on the same level of ambition being urgently translated into a number of key policy frameworks – such as the upcoming Heat and Buildings Strategy and the Future Homes Standard."
David Smith, chief executive of the Energy Networks Association (ENA), said:
"The new climate target must be backed up with climate action which is why the Prime Minister's recent 10 Point Plan is so important. We look forward to the Energy White Paper which should set out the policy needed to accelerate the roll-out of electric vehicles, increase the amount of renewables on the grid, and develop a hydrogen economy. This will help to support skilled, green jobs and cut the country's emissions at best value and least disruption to the public."
Oxfam GB's climate policy expert, Tracy Carty, said:
"The government's commitment is a vital step in bringing the UK closer to its fair share of global action needed to tackle the climate crisis. Lives and livelihoods are already being lost due to climate change, particularly in poorer countries that have done least to cause it. To get off the catastrophic emissions path we are currently on demands bolder action and for the UK to reduce our emissions even further. The government as hosts of next year's UN climate summit now needs to galvanise other nations to announce more ambitious reduction targets."
Alison Rose, CEO of NatWest Group, a principal partner of COP26, said:
"NatWest Group is committed to helping the government deliver green investment and growth. As the leading bank in the UK for business customers we have a significant responsibility to lead the way in helping people across the UK tackle climate change and reduce our greenhouse gas emissions and we welcome the government's announcement today."
Andy Wales, BT Group chief digital impact and sustainability officer, said:
"We welcome today's announcement by the UK government, which sets ambitious targets and sends a clear signal that we need to transition to a low carbon economy. It's encouraging to see the UK using its presidency of the G7 and COP26 to demonstrate leadership on climate action and inspire others to raise their ambitions.
"BT has long recognised the importance of setting ambitious carbon reduction targets. We were one of the first companies in the world to set a 1.5°C aligned science-based target – to reduce the carbon emissions intensity of our business by 87 per cent by 2030. Beyond that we've pledged to become a net zero carbon emissions business by 2045."
Peter Simpson, CEO of Anglian Water and co-chair of The Prince of Wales's Corporate Leaders Group, said:
"Credible plans matter in the race to zero, so today's announcement is welcomed. It's why the water industry recently launched its own routemap to net zero by 2030. There's never been a more important time for companies to step up, invest, and take action to support both national ambition and global need, and this expectation is something our customers have been very clear about. COP26 means the spotlight is on. Climate change won't wait for us, and the time for action is now."
Alistair Phillips-Davies, chief executive of SSE, said:
"The UK's 2030 ambition set out by the Prime Minister today is among the most ambitious in the world and we're excited about working alongside government to deliver it. This kind of bold and decisive policy-making will help unlock the investment needed to deliver on our net zero ambitions, tackle climate change and help spur a green recovery from the coronavirus crisis.
"This target provides a clear, long-term signal for businesses like SSE to get on and deliver. With a £7.5bn low-carbon investment programme, including building the world's largest offshore wind farm at Dogger Bank, we're playing our part and want to do more to demonstrate the UK's international leadership as we build towards COP26 next year – from pioneering carbon capture and storage technology to building the network infrastructure needed to accommodate the coming surge in renewables, electric vehicles and heat pumps."
Tom Fyans, campaigns and policy director at countryside charity CPRE, the countryside charity, said:
"This is a major milestone for climate action ahead of the international climate negotiations in Glasgow next year. But the Prime Minister's pledges today are not enough to avert runaway climate change and can only be seen as a stepping stone. Setting targets is the easy part, but these targets will mean nothing without action to back them up. In the coming months, we must see deeper and more rapid cuts in our transport, energy and homes while truly investing in nature as one of our greatest allies in tackling the climate emergency.
"The role of nature-based solutions has been worryingly absent from recent climate announcements when they should be front and centre in soaking up carbon emissions and preventing some of the worst impacts of climate change. We know that countryside communities are on the front line of climate change and the extreme weather events it causes. That's why it's crucial ministers drive deeper and faster cuts to our carbon emissions and lead other nations to follow suit. It's time for real climate action."
Luke Murphy, head of think tank IPPR's cross-party Environmental Justice Commission, said:
"This new emissions target is a welcome and significant increase in ambition by the UK government, ahead of the crucial UN Summit. As host of COP 26, it sends an important signal to other countries around the world that are currently considering their own commitments.
"This must, however, be the floor of the UK's ambition and not the ceiling. As the world's fifth largest historic emitter, the UK has a moral responsibility to go faster and further than less developed nations. Moreover, this new target excludes international aviation and shipping and it is important that the government also makes a commitment to reduce emissions in these sectors.
"What is more, ambitions are nothing without the actions needed to realise them. While the Prime Minister's recent 10-point plan marked welcome progress, the commitments it contained weren't even enough to meet our existing legally binding targets, let alone get us on track to meet net zero.
"If the government is serious about meeting its commitment to what it calls a world-leading emissions target, then it will need to back it up with a world-beating plan to deliver it. That will mean bringing forward greater investment, regulations and policies in areas from home retrofit to tree-planting and clean public transport. It must also mean a commitment to reducing the production, consumption and export of oil and gas, in line with the UK's international commitments under the Paris Agreement."
Anders Opedal, CEO of Equinor, said:
"As a significant and growing investor in the UK, Equinor welcomes this increased climate ambition, which will encourage more investment and job creation in a UK low carbon economy. Equinor aims to be a net zero company by 2050, and works together with the UK government and society to develop solutions towards a low-carbon future. Equinor is currently actively involved in technology development, offshore wind, and hydrogen and carbon capture and storage projects in the U.K. We look forward to future exciting announcements."
Stephen Moorhouse, vice president and general manager for Great Britain at Coca-Cola European Partners, said:
"At Coca-Cola European Partners in GB we have reduced our carbon impact by more than a third over the last decade but we know much more is needed. We are one of many organisations who have signed the Business Ambition for 1.5 pledge as we understand the importance of businesses collaborating with clear and ambitious targets to tackle climate change. We welcome the bold commitment from the UK government as a crucial step to accelerate the transition to net zero."
Jason Tarry, Tesco UK & Republic of Ireland CEO, said:
"It's critical Britain sets a clear pathway of action to lead the fight against climate change, and this confirmation of an ambitious NDC is an important step on that journey. Our supply chain and long-term business sustainability depend on the health of the natural environment, and our customers and colleagues expect Tesco to play its part in caring for the planet, which is why we've brought forward our own ambition to reach net zero in our UK operations by 15 years, to 2035."
Jeremy Darroch, Sky group chief executive, said:
"This is a vital step forward and should focus all our minds on the urgency of the climate crisis. How we respond to this crisis will define our generation, so it's right that the government has set bold and ambitious targets. We only have one chance to get this right and business wants to work with the government as we approach COP26 to be a positive part of the solution, helping us build back in a sustainable way."
Keith Anderson, ScottishPower CEO, said:
"Today's announcement marks a significant acceleration in the race to zero and aligns with our own ambition at ScottishPower to build back greener and help lead the response to the climate emergency.
"We are investing £10bn in the next five years towards doubling our renewable generation capacity, delivering the network infrastructure required to support decarbonisation across transport and heat as well as offering our customers 100 per cent clean power – all of which will create jobs, strengthen supply chains and drive innovation across the energy sector. This ambitious new target will help shape a decade of delivery with both purpose and momentum, putting us all on the path to a better future quicker."
Roy Bedlow, Low Carbon chief executive, said:
"Ahead of COP26, Low Carbon welcomes these ambitious but achievable decarbonisation targets by Boris Johnson. The UK is a world-leader in delivering renewable energy project at scale and we have now have legally binding targets to match. It is vital that other developed nations now follow the UK's lead if we are to avert a climate catastrophe. Low Carbon stand ready to play our part in the UK and across Europe, and with an advanced renewable energy pipeline of over 4GW, we are primed to do so."
Read more: businessgreen.com