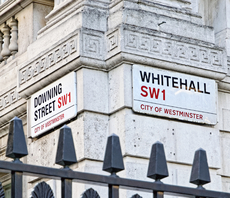 One Nation Conservatives group of more than 100 MPs call for 2030 fossil fuel car ban, carbon tax and tree planting funding
A group of moderate Conservative MPs has served up a raft of policy recommendations designed to help deliver on the Prime Minister's pledge to "build back greener" from the Covid-19 recession, including proposals to bring forward the petrol and diesel car sale ban to 2030, plant tens of thousands of trees, and create a domestic carbon tax.
The One Nation Conservatives group, which comprises more than 100 MPs from the Party's centre-right wing, today unleashed a wide-ranging 'Building Back Greener' paper, comprising a raft of essays and policy recommendations from its members.
It includes calls for an improved focus on green jobs training, tighter home energy efficiency standards, support for natural climate solutions such as tree planting and better soil health, accelerated clean technology development, and schemes to incentivise cycling and low carbon transport.
Writing in the foreword to the paper, Jerome Mayhew MP said the government had an "opportunity to reboot our economy and create jobs, by accelerating the rollout of clean and resilient infrastructure and stimulating low carbon industries across the UK".
"As Conservatives we reject the anti-capitalist assertion that economic growth and rising living standards are incompatible with achieving our net zero commitments," he writes, adding that by building a green recovery "we can not only create high-quality, secure jobs across the country, but also make progress towards our net zero target and make runaway climate change – a potentially bigger shock to our economy than Covid-19 – less likely."
It follows revelations yesterday that the UK has fallen into the deepest recession of any G7 nation, with official figures showing the economy shrank by more than 20 per cent during the first quarter of the year, leading Chancellor Rishi Sunak to describe the slump as "unprecedented".
Prime Minister Boris Johnson has repeatedly promised to "build back greener" from the pandemic, announcing £2bn of support for green homes, as well as funding for tree planting, cycling infrastructure, green aviation R&D, industrial decarbonisation projects, and Direct Air Capture CO2 mitigation technology development in recent weeks.
Concerns remain in many quarters, however, that the new green funding, incentives, and policy measures announced so far do not go nearly far enough, with unfavourable comparisons drawn with Germany's €40bn green stimulus package unveiled in the immediate wake of Covid-19 crisis.
And while today's One Nation Conservatives' paper stresses that not all of the 25 recommendations it contains "will be agreed to by each author", it nevertheless signals growing cross party consensus for more ambitious green recovery policies to prepare the UK's workforce and infrastructure for the net zero transition.
While the government is currently consulting over whether to bring forward the current fossil fuel car sale ban from 2040 to 2035 or earlier, today's paper calls for a 2030 phase-out date, which would give the UK one of the most ambitious green road vehicle targets in the world.
The paper also calls for legislation to ensure new homes are built with smart electric vehicle charging points as standard, and sets out plans for green jobs training provision for charge point installation and maintenance, as well as in related areas such as battery technology.
The new paper comes as the Local Authority Pension Fund Forum – a voluntary association of 81 public sector pension funds managing £300bn of assets – yesterday demanded an end to sales of all new petrol, diesel and hybrid cars by 2025, in its response to the Department for Transport's consultation.
Elsewhere in the policy paper, Mayhew argues for stronger carbon pricing policies, including a domestic carbon tax to tackle emissions and boost Treasury income, backed by border carbon adjustment to avoid "leakage" of carbon intensive industries to regions with more lax carbon pricing regimes. He argues the move could "provide a very significant income stream to the Treasury whilst incentivising positive behavioural change".
Other recommendations in the paper include launching a £3.8bn social housing decarbonisation fund, delivering a £5bn broadband upgrade across the UK, targeting 10 million tonnes of carbon capture and storage (CCS) by 2030, and setting out clear targets and funding to deliver 30,000 hectares a year of trees.
Capital investment in green infrastructure could also be funded via the issuance of a sovereign green guilt, according to one of the proposals set out in the paper.
"We propose some overarching fiscal measures – namely carbon pricing and sovereign green bonds – which would channel private investment into low-carbon solutions," writes Mayhew.
It comes amid reports suggesting the PM is poised to set out rules in the coming days that would put an end to UK financial support for overseas fossil fuel projects, following criticism levelled at the government's credit agency UK Export Finance (UKEF) for backing oil and gas projects in developing nations.
The new rules, which according to the Guardian could come as soon as this week, would rule out future loans and financial guarantees for fossil fuel projects via UKEF, in a bid to shore-up the UK's reputation as a global climate leader ahead of the crucial COP26 Summit in Glasgow next year.
Hopes for more ambitious green recovery funding and policies remain largely centred on the Autumn Budget and Spending Review, which is expected to see the Chancellor unveil further measures to bolster an economy reeling from the coronavirus crisis and mounting job losses.
But amid fears of a 'second wave' of Covid-19 infections as the summer ends, there is now growing speculation this week that Sunak may be forced to delay the Budget announcement – potentially until as late as next spring – if there is a significant spike in new coronavirus cases. Should that happen it could further increase uncertainty within the green economy over the direction of the UK's net zero pathway, particularly with a no-deal exit from the European Union potentially threatening further economic disruption at the end of the 2020.
However, today's new paper shows that pressure on the government to significantly beef up its green recovery package is coming not just from businesses, investors, campaigners, and opposition parties, but also from its own MPs.
Read more: businessgreen.com