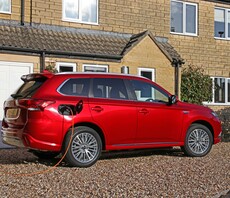 Ovo's technology arm Kaluza provides BusinessGreen with a fresh look at the platform behind Project Sciurus, the world's largest domestic vehicle to grid project
In the virtual control room of energy specialist Kaluza, a smattering of dots scattered across a map of the West Midlands spring to life after an alert pops up, flicking from grey and blue to bright green.
The dots represent electric vehicles (EVs), and the alert is a projected shortfall in energy on the electricity grid. Foreseeing a drop in the supply of power, the software has reacted, encouraging electric cars connected to its system to bounce from a previously idle or charging state – represented by grey and blue dots on the display – to start pushing energy back to the grid.
Within a few seconds of a simulated shortfall of power, nearly 20 previously-idle EVs became net exporters of electricity, earning their owners money by selling much-needed electrons back to the grid. Meanwhile, the number of cars charging halved as an algorithm worked to ensure the drivers would not be charged during the expected price hike sparked by the drop in supply.
These were some of the scenes on display in a virtual tour of the Kaluza control room last week, where the energy technology arm of energy giant Ovo provided BusinessGreen with a behind-the-scenes look at how its flexibility platform can automate and optimise the charging of smart home devices to meet the needs of an increasingly renewable, and therefore intermittent, grid.
The vehicle-to-grid (V2G) technology that was showcased is just one type of charging technology that can be integrated on Kaluza's flexibility platform. Domestic energy storage systems, electric heat pumps and electric vehicle chargers around the country are also being optimised by its system. In addition to a partnership with Nissan that has enabled the V2G technology integration, Kaluza has tie-ups with heat pump suppliers Mitsubishi Electric and Daikin, home storage system supplier Sonnen, and Fiat Chrysler owner Stellantis.
As the electrification of heat and transport gathers pace over the coming decade and sales of EVs and heat pumps soar, Kaluza is expecting demand for services that help UK households optimise their energy use to accelerate. Meanwhile, technologies that can enable a more flexible grid will be critical as pressure on the energy system intensifies thanks to increased demand and a growing reliance on variable generation from clean energy assets.
At the demonstration event Kaluza's head of flexibility Conor Maher-McWilliams emphasised how the flexibility platform has been designed to solve the twin challenge of decarbonising the power sector while at the same time preparing it for a surge in electricity use. "Trying to solve both of these things at the same time is going to be impossible, or almost impossible, at a cost that is acceptable to society unless we digitise the system," he said. "[We need to] connect these new smart devices and intelligently orchestrate their control, to make the most efficient use of renewables when they're available, and also the networks that transport those renewables down to homes."
With the need for grid flexibility and back up power fatally exposed earlier this month when 4.5 million customers in Texas were left without power after a cold snap halted generation across the grid and decimated the state's limited power reserves, the case for flexibility technologies like Kaluza's is becoming increasingly hard to argue with.
As such Kaluza is expecting its business to expand rapidly over the coming years as smart devices become a more common fixture in UK households. EV use has been growing steadily, but sales are expected to explode in the coming 10 years as car makers ramp up their zero emission lines ahead of the phase out of fossil fuel cars. Meanwhile, some estimates calculate the number of heat pumps installed in Great Britain will grow from 150,000 in 2018 to between four and six million by 2035.
At the same time Kaluza and others are providing real world evidence that digital platforms can automatically manage when these devices draw power from the grid and, in the case of EVs and energy storage units, when they return it to the netork. The 350 Nissan V2G charge points incorporated on Kaluza's platform represent the world's largest domestic vehicle to grid project to date, having been delivered as part of an ongoing trial sponsored by the government's Office for Low Emission Vehicles, the Department for Business Energy and Industrial Strategy, and Innovate UK.
Kaluza's head of customer policy and strategy Marzia Zafar admitted during last week's demonstration that it would be some time before the Kaluza platform would boast significant numbers of V2G data points. "Our technology is ready for V2G, but the market is not," she said. "We know V2G is a way away, but [in the meantime] we can work with EV smart chargers, we can work with heat pumps."
However, she noted that the UK holds huge potential for V2G technology. "The UK market is a very open market, if you compare it to, for instance, California, which is very much regulated," she explained. "The incentives for customers aren't there and its hard to get in there with the demand response providers. Whereas here, its a very open market. Customers are more aware and on the cusp of action. If there is anywhere it can work, it would be in Europe and specifically the UK."
The way Kaluza's technology works is that it relies on artificial intelligence and machine learning algorithms to amass and crunch minute-by-minute data garnered from thousands of connected devices – processing information on state of charge, battery heath, and importing and exporting ability, alongside real-time data from the wholesale electricity market and weather forecasts. Using this data, it continually calculates and updates the optimal charging path for each device, reducing costs for customers and balancing demands on the grid, while also trading energy back and forth from home storage systems and V2G-enabled EVs.
With smart household appliances still in their infancy, the full customer savings and grid balancing potential of the platform is yet to be realised, Zafar emphasised. "Flexibility is as good as the scale in the market," she explained. "So, the more homes with smart devices, the more flexibility can be useful. That is why customer engagement is so important, because if customers don't engage with it, then it's not going help that much… Its all about that scale and reducing market barriers."
However, the insights generated already from the Kaluza platform has enabled parent company Ovo to confidently roll out a new type of smart energy tariff for EVs that undercuts many of the other tariffs on the market. The Ovo Drive Anytime tariff, launched last month, offers customers a consistent rate of 6p per kW/hour, no matter what time of day, in a departure from 'time of use' smart tariffs which charge customers more for set times when electricity demand is high and only offers cheaper charging overnight when demand is typically low.
The 6p per kilowatt hour rate offered in the new tariff is made possible through Kaluza's ability to monitor and control supply and demand of connected devices on a granular level, Zafar explained. "Based on our studies, we can break even [on the 6p per kW rate] because then the Kaluza platform is coming in and optimising that load by shifting load from high price times to low price times," she said. "And yes, some people may boost [override the algorithm to set their device to charge in high-price times], but as a whole, based on our understanding of customer behaviour, we think this is a good price and we can break even."
The app designed by Ovo and Kaluza for customers signed up for flexible energy tariffs has been designed specifically to encourage and motivate customers to take an active role in decarbonisation, Zafar emphasised. "We want to engage customers, to engage households, to make it easy for them to say: I want to contribute to decarbonisation," she stressed. "That's our overall goal."
The display of the V2G app, for instance, shows customers how much energy their car has charged and discharged, its current state of charge, and how much they have spent and saved overall on electricity. It also tells customers how their V2G performance ranks compared to other users around the country, and how they can rise up the national league table.
Within the app, the customer can set charging parameters for the platform to work around, including the times they want their vehicle to be ready to leave, and the minimum and maximum range of charge they want in their vehicle. The Kaluza platform will then work around these parameters, allowing it to draw power from stationary cars that have charge to spare and paying customers 30p per kilowatt hour for every unit they export.
Part of Kaluza's mission is to grow consumer awareness of the devices that can earn customers money by becoming net exporters of energy to the grid, Zafar said, and working with other players in the UK energy sector to overcome market barriers that currently prevent customers from taking a more active role in household energy efficiency and decarbonisation. Wrapping up the roll out of smart meters across the country is a critical starting point, she added.
"Market barriers should hopefully be removed in time for about 2024, 2025 – when we have millions of [electric] cars on the road, when we have hundreds and thousands of heat pumps in people's homes," Zafar said. "It's really important for policymakers to understand that we need to have these market barriers removed ahead of scale of market devices."
Kaluza became the first residential platform to provide paid flexibility services to distribution network operator (DNO), when it inked a deal withWestern Power Distribution (WPD) in January 2020. Now, more DNOs need to embrace the market for trading flexibility, Zafar said.
"Flexibility is not going to kill [DNOs'] business," Zafar said "Flexibility is there to maximise renewable generation and to make household customers' bills cheaper, but that doesn't mean that flexibility providers are going to come in and take all DNOs infrastructure needs away. That is not the case, they are still going to have to build infrastructure. We are just saying, there's some local constraints that we can help you with."
The decarbonisation of power is well and truly underway in the UK, and it is clear the next stage of decarbonisation for the economy is going to be much more involved for citizens. Cleaning up transport, buildings, and central heating will require significant changes to people's lifestyles, and as politicians scramble to find ways to encouarge the public to get on board with this journey, technology like that being developed by Kaluza could play a major role. Not only can it ease growing pressure on the grid and boost the nation's power reserves, but it presents an opportunity to recruit hundreds of thousands of citizens in support of the UK's net zero ambition by delivering slick, engaging customer experiences that encourage active engagement in the transition. The number of dots on Kaluza's map looks set to expand rapidly in the coming years.
Read more: businessgreen.com