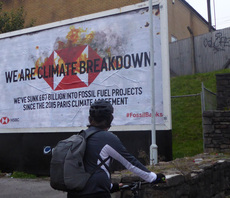 New Competition and Markets Authority inquiry is to explore whether UK companies are misleading consumers about the environmental credentials of their products and services
The green credentials of the growing number of UK companies that market 'eco-friendly' products and services are set to be scrutinised by the UK's competition watchdog over the next few months.
The Competition and Markets Authority (CMA) yesterday announced a major probe that will investigate whether businesses touting environmentally friendly products are delivering on their marketing claims.
The inquiry will look at whether businesses are exaggerating the positive environmental impacts from their products and services in order to capitalise on growing consumer demand for ethical and sustainable products, the watchdog said.
Appetite for sustainable products has ballooned in recent years, with the total spend by UK consumers on ethical goods and services jumping four-fold over the last two decades to £41bn. Polls have suggested the coronavirus crisis and lockdown has triggered a further uptick in consumer engagement with environmental issues, while a growing wave of consumer goods businesses have stepped up their investment in green products and services in support of new net zero emissions goals.
The investigation launched today will consider whether companies' packaging, logos, and other marketing materials mislead customers into thinking items are 'eco-friendly' when they deliver negligible or non-existent environmental gains.
It will also explore how complex or jargon-heavy language can be used to mislead costumers and whether companies that fail to provide all relevant information about the sustainability of a product of service – for example, whether it's non-recyclable or highly polluting – have breached consumer law.
The CMA emphasised the inquiry – which will span the food and drink, beauty, cleaning products, fashion, travel, and transport sectors – will benefit conscious consumers and environmentally responsible businesses.
"Increasing numbers of people are quite rightly concerned about the environment and want to play their part by being greener," explained Andrea Coscelli, chief executive of the CMA. "Our role is to make sure that consumers can trust the claims they see on products for sale and don't fork out extra for items falsely presented as eco-friendly."
He added that better policing of environmental claims would ensure that "businesses genuinely investing in going green can be properly rewarded by their customers".
The watchdog said it had not yet decided whether consumer protection law had been broken by firms, but warned it was prepared to "take appropriate action" against companies that are deemed through the investigation to have breached rules.
In addition, the CMA said it intends to publish guidance for businesses next summer that will help them transition to a low carbon economy without engaging in 'greenwash'. In the meantime, it is calling for public comment on what consumers expect from 'eco-friendly' products and how green claims affect their purchasing decisions.
The watchdog said it will also consult with charities, businesses, and other organisations to gain a better understanding of the issues in this area.
However, regardless of the outcome and level of consultation the CMA inquiry is bound to prove controversial. While businesses have become more adept at avoiding making blatantly misleading or exaggerated claims about products' green credentials, accusations of 'greenwash' have intensified in recent years as companies with carbon intensive business models have sought to promote their renewed commitment to tackling climate change. Critics have argued that companies that promote green services, such as oil majors that now operate electric vehicle charging infrastructure or renewables projects – are also guilty of 'greenwash' given their continued primary focus on fossil fuel production.
Moreover, terms such as 'carbon neutrality', 'net zero', and 'offsets' have all proved contentious with some environmental campaigners, while an absence of clear definitions for many green marketing terms has made it difficult for observers to weigh how credible corporate claims are.
On the same day as the CMA announced its inquiry the complexity it will face as it tries to define 'greenwash' was further highlighted as energy giant Shell found itself at the centre of a social media storm when environmental campaigners responded angrily to a new campaign asking what people are "willing to change" to reduce emissions.
📊 What are you willing to change to help reduce emissions? #EnergyDebate
— Shell (@Shell) November 2, 2020
The response from Greta Thunberg was just one of thousands to accuse the company of failing to move fast enough to tackle climate risks and seeking to offload responsibility for its own polluting activities onto consumers.
I don't know about you, but I sure am willing to call-out-the-fossil-fuel-companies-for-knowingly-destroying-future-living-conditions -for-countless-generations-for profit-and-then-trying-to-distract-people-and-prevent-real-systemic-change-through-endless greenwash-campaigns. https://t.co/O3ReJPv81Q
— Greta Thunberg (@GretaThunberg) November 2, 2020
The angry responses prompted a defence from Shell, which published a follow up tweet reiterating its view that "changing the energy system requires everyone to play their part". "That's what today's #EnergyDebate was about," it added. "As for our part, we said last week that Shell will reshape its portfolio of assets and products to meet the cleaner energy needs of its customers in the coming decades."
The CMA's inquiry also comes as high street bank HSBC's marketing materials were targeted by activists who argue the bank's billboard adverts purposefully mislead consumers into thinking the bank is environmentally responsible.
Activists have this week covered billboards and bus signs in 10 major UK cities with spoof HSBC adverts that accuse the bank of 'climate colonialism' and demand that it stop financing fossil fuels, detention centres, and climate destruction with immediate effect.
"Advertisement is a key mechanism for big banks to shore up their public image," said Tona Merriman of the Brandalism group, which staged the protest. "HSBC likes to position itself as a friendly high street bank through its marketing, but these artworks tell a much darker tale of human rights abuse facilitated by the bank's activities."
The group said the campaign had been launched in protest of the bank's ongoing promotion of the net zero emission climate target it launched last month, a pledge activists have slammed as at odds with HSBC's ongoing financing of fossil fuel projects, including a major Liquid Natural Gas extraction project in Mozambique.
The group also said a recent ad campaign that positioned the bank's role as a champion of local community as insincere. "HSBC's billboard advertising offered a fake affection, a corporate cosyness saying 'You are London', 'You are Bristol', 'You are Glasgow', etc," Merriman said. "But multinational banks are not communities. And our cities and towns are not HSBC. This campaign offers the public a right of reply to HSBC's PR spin."
HSBC was considering a request for comment at the time of going to press, but the company last month stressed its commitment to supporting the net zero transition, pledging to "apply a climate lens" to all its financing decisions, disclose its climate risk in line with the recommendations of the Taskforce on Climate-related Financial Disclosure (TCFD), and work with the broader finance sector to create a standard to measure financed emissions and support a functioning carbon offset market. The promised reforms came in support of new over-arching targets to reach net zero emissions across its supply chain and operations by 2030, before delivering net zero emissions across its investment portfolio by 2050. However, while the bank said it would channel between $75bn and $1tr of financing and investment over the next 10 years to support its customers' transition towards net zero emissions, the failure to explicitly rule out all fossil fuel financing with immediate effect meant the plans attracted accusations of 'greeenwash'.
HSBC's travails with campaigners are far from the only example of major green pledges being publicly attacked by campaigners who argue, often with good reason, that they are not ambitious enough. In many ways the CMA's inquiry comes at a crucial time, when green marketing has never been more prevalent, nor more contentious. And as such it is welcome that the watchdog is seeking to clarify the current rules of engagement for those businesses seeking to promote their environmental credentials. But equally it is probably unrealistic to hope that a single inquiry can resolve debates that have seen the term 'greenwash' evolve from a description of a misleading environmental claim to something much more complicated about the role, credibility, and even sincerity of those businesses that state that they are trying to transform their business models in support the net zero transition.
Read more: businessgreen.com