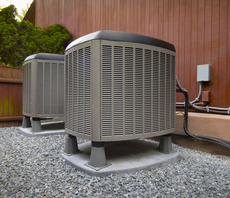 The UK must ramp up heat pump installations at least 25-fold by 2028 to meet current goals, but governance, incentives, and funding support are lacking, a new report argues
Efforts to solve the UK's heat decarbonisation conundrum are at present comparable to a rudderless ship: the expertise and cargo are all on board, yet navigating any clear sense of direction remains a major challenge.
Home heating is certainly a big problem for the UK's climate goals. Around 19 per cent of the UK's greenhouse gases come from warming up the places where we live and work, with more than three quarters of those emissions coming from domestic buildings, largely due to the fossil fuel gas boilers fitted in the overwhelming majority of homes. Yet despite myriad proven replacements for carbon intensive gas heating – district heating, hydrogen, and heat pumps could all arguably play a key role – around 1.6 million gas boilers are still installed in the UK each year. Moreover, new homes are today being built with fossil fuel heating installed as standard.
Clearly, a major step-change is needed. To that end, the Prime Minister's 10 Point Plan for a Green Industrial Revolution late last year set a number of goals to kick start the nascent green heating industry, touting targets for energy efficient building upgrades, plans to develop the UK's first hydrogen-heated town by the end of the decade, and a goal to install 600,000 heat pumps a year by 2028.
But while government and industry have begun laying the groundwork for the production capacity and pipeline networks necessary to deliver hydrogen gas to people's homes, the roadmap for heat pumps – seen by many as the more cost effective, technically viable, and proven at scale option for the majority of homes in the UK – seems far less clear. Much is therefore expected of the government's hotly-anticipated Heat and Buildings Strategy, which is expected to emerge in the coming months following several delays.
For Pedro Guertler, programme leader at climate think tank E3G, Boris Johnson has a lot riding on his heat pumps deployment target proving credible, but with only a few short years to ramp up heat pump installation rates 25-fold from just 24,000 last year to 600,000 by 2028, an ambitious action plan is urgently needed. "The government needs to take bold, coordinated decisions this year to stand a realistic chance of achieving a mass market by the end of this decade," Guertler warns. "While the scale and pace of transformation needed for our heating can appear daunting, it is a necessary and achievable investment in the UK's future."
To try and map out a pathway forward for the still nascent heat pump sector, Guertler has co-authored a new report this week alongside green heating experts Jan Rosenow, European programme director at the Regulatory Assistance Project and an honorary Oxford University research fellow, and Richard Lowes, a lecturer at the University of Exeter's Energy Policy Group.
First up, they argue the 600,000 a year target for 2028 may be hugely ambitious, but it is still too low to meet climate targets based on the most cost effective decarbonisation pathway. Indeed, it falls below the Climate Change Committee's recommendation for 900,000 heat pump installations per year by 2028. However, the authors aso content that by putting in place the right policy financial support, guidance for households, governance, incentives, standards and regulatory targets today, the UK can rapidly accelerate the heat pump rollout over the coming decade to surpass current goals and help decarbonise the country's currently high carbon housing stock.
Fortunately, a governance model exists for driving this mass adoption of heat pumps, they argue. The report highlights how the UK's Automotive Council has been critical in orchestrating co-operation between industry and policymakers to deliver on the UK's newly-adopted and similarly ambitious target to end sales of internal combustion cars by 2030. As such, it argues the UK should therefore establish a Heat Pump Council this year to help shape the forthcoming transition, backed by a clear phase-out date for the sale of new gas boilers in the early 2030s so as to provide market certainty and unlock investments in the skills and innovation needed to deliver the heat pump rollout at scale.
Such governance measures would help, no doubt, but arguably the biggest barrier to heat pump adoption remains their considerable upfront cost. Consequently, the report recommends new governance efforts are backed by strong financial support and industry incentives, which should serve to drive up economies of scale and drive down costs over time. Again, mirroring the grants offered for purchasing electric vehicles, the government could offer £6,000 grants for better off households towards installing a heat pump, rising to £10,000 to those on lower incomes, the report suggests. Overall, state support for these grants should then peak at £3bn in 2030, it estimates, with grants for better off households falling over time as the market scales up and heat pump costs decline. It represents a significant upfront investment in the 2020s, perhaps, but CCC trajectories estimate a more ambitious heat pump rollout over the coming decade could halve the costs of the rollout by 2050, when the UK economy is legally required to achieve net zero emissions. Moreover, a "modest" carbon tax of around £50 per tonne of CO2 on heating fuels could unlock the funding required for these subsidies, the authors suggest.
And finally, the report calls for wider industry incentives for green heating options, by adjusting how much electricity costs relative to gas to reflect their true costs, while protecting fuel poor households. Pricing the cost of carbon emissions into gas consumption, rebalancing how the costs of clean energy investments are recouped from energy bills, and pricing heat pumps into property values by linking the level of stamp duty paid to home energy and CO2 performance could all serve to accelerate the rollout, the report argues.
Raising carbon costs for gas to better reflect the relative environmental impacts of gas and electricity represents a logical step that has long been advocated by some economists and policy wonks, but it remains a significant political challenge given the likely impact on heating bills and the continued lobbying influence of the gas industry.
However, as the authors of the new report argue, bold decisions are urgently needed if the UK is to tackle emissions from buildings and trigger a "transformative effect" on the market for heat pumps, by driving down costs, supporting high quality jobs across the country, supporting green post-Covid growth, reducing reliance on fossil fuel imports, and boosting domestic innovation and manufacturing. And with demand for home heating having risen an estimated 14 per cent in the UK during the pandemic due to increased homeworking, the urgency of shifting away from carbon and cost intensive gas heating is only growing. Indeed, it is utterly critical to delivering the UK's 2050 net zero target, according to Lowes.
"The scale of heat pump deployment needed for the UK's net zero goal dwarfs the size of the UK's transition to North Sea gas in the 1960s and 70s," he warns. "Meeting the challenge requires a combination of public and private investment, incentives, skills development, and standard setting."
It is a compelling argument. And with the government and industry also ramping up efforts to develop a hydrogen supply chain, there is now little risk of placing all of the UK's heat decarbonisation eggs in one basket. Without ambitious action taken this year, the UK's heat pump rollout – and therefore the chances of keeping the country on track with its broader climate targets – risks being stuck in the doldrums.
Read more: businessgreen.com