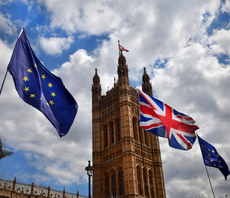 On Christmas Eve the UK and EU averted a damaging no-deal scenario, but the resulting trade deal still leaves many outstanding questions about the UK's environmental policy prospects unanswered
Since the Brexit referendum in June 2016 the process of exiting the European Union has been nothing short of a rollercoaster ride. Now, after four-and-a-half-years of political turmoil and wrangling over everything from parliamentary sovereignty to the legal small print of fisheries agreements, the UK and EU have a trade deal, averting the very real threat of an economically disastrous cliff-edge Brexit.
Prime Minister Boris Johnson hailed landmark the deal on Christmas Eve as a major victory for the UK, claiming it was worth around £668bn of trade in 2019 terms, while allowing Westminster to "take back control" of the UK's laws, borders, money, and fishing waters.
Meanwhile, the business world breathed a huge collective sigh of relief that sizeable tariffs on trade in numerous critical products, including crucial clean technologies, had been avoided. At the same time investors welcomed the greater certainty and stability promised by the deal, and a weary public seemed happy to simply draw a line under the long-running affair.
Yet the full ramifications of the 1,255 page deal continue to be worked through by experts and businesses, and many of the key details and processes for enabling continued cooperation between the two parties are still to be thrashed out over the coming months and years. The Brexit rollercoaster ride that has defined modern British politics may have entered a lull, but it is far from over.
Broadly, though, the deal does mean that while UK is no longer a member of the EU – with the Brexit transition period having ended on 31 December – British businesses will be able to continue trading most goods tariff-free and without quotas across the EU's 27 member states. It also paves the way for continued close cooperation on a host of key issues, including climate change, energy, and security. Yes, many businesses now face a lot more red tape when trading with the EU, but the government's claim that it has delivered on its promise to 'get Brexit done', secured the UK more freedom to tailor its own regulatory, policy, and farming subsidy landscape to suit its requirements, and maintained tariff free access to the single market is not without merit.
But beyond that, the deal throws up a host of other key considerations for the green economy. After all, the UK's relationship with its closest neighbours and trading partners will have a major bearing on climate action, environmental protection, and the net zero transition, however it evolves over the coming decades.
So what to make of the deal that looks to reset UK-EU relations after 40 years of EU membership? BusinessGreen takes a look at five of the key green components of the deal.
1. Climate change
Firstly, the good news.
The UK-EU trade deal is thought to be among the first to explicitly embed mutual commitments to climate action and the net zero transition, with the text of the document stating that "each party reaffirms its ambition of achieving economy-wide climate neutrality by 2050".
It also specifically commits each party to "effectively implementing the UNFCCC [UN Framework Convention on Climate Change], and the Paris Agreement" and to promoting "the mutual supportiveness of trade and climate policies". Moreover, "materially defeating the object and purpose" of the Paris Agreement by either party is considered a serious breach that could lead to termination or suspension of all or parts of the agreement.
Dr Markus Gehring, a sustainable development lawyer and expert at the Centre for European Legal Studies at the University of Cambridge, told the Independent last week that the agreement "contains the most ambitious climate language I've seen in any trade deal". "The EU has a history of including references to the Paris Agreement, but this deal takes it one step further and makes it a make-or-break issue," he said.
With both the UK and EU having previously set their 2050 net zero targets in stone, it is perhaps no great surprise or sacrifice for either party to reaffirm commitments, which given the current public, corporate, and political drive for decarbonisation, neither are likely to breach. Nevertheless it sends a big signal to UK and EU trading partners throughout the rest of the world of the future direction of travel, and could prove to be hugely influential at the start of what promises to be a crucial year for global climate actoin with COP26 just around the corner. It also sets a higher bar for climate provisions in any future trade agreements the UK brokers with other nations in future, as trade becomes an increasingly important lever in the climate fight.
It is possible that the joint commitment to co-operation on climate matters could provide the foundations for co-ordinated action to one day impose carbon tariffs on those countries that fail to honour the goals of the Paris Agreement.
2. Electric vehicles
Electric vehicles were a major area of concern during trade deal negotiations, as tariffs would severely impact the UK car industry, which is heavily reliant on trade in batteries and EV components across Europe. Trade body SMMT warned a no-deal Brexit could add £2,800 to the cost of an average EV in the UK.
As it is, although there will likely be an increased administrative burden for traders, the deal brokered on Christmas Eve means that all trade in cars and parts will continue to be free of tariffs and quotas for the next three years – so long as they contain enough content from either UK or EU factories.
But from January 2024, the thresholds for tariff-free electric car part trade between with two parties will tighten. For the next three years, batteries must contain at least 30 per cent of materials made in the UK or EU to be traded between the two parties tariff-free, according to the deal, rising to 50 per cent thereafter. That could be good news for the domestic green economy by incentivising self-sufficiency and inward investment, but it also undoubtedly leaves an industry still frequently reliant on the import of Japanese and Chinese components with a challenging race against time to avoid fresh tariffs in just three years' time.
"With the deal in place, government must double down on its commitment to a green industrial revolution, create an investment climate that delivers battery gigafactory capacity in the UK, supports supply chain transition and maintains free-flowing trade – all essential to the UK automotive sector's future success," said SMMT chief executive Mike Hawes. "However, the six-year phase-in period and special provisions for electrified vehicles and batteries now make it imperative that the UK secures at pace investment in battery gigafactories and electrified supply chains to create the world-leading battery production infrastructure to maintain our international competitiveness."
3. Carbon pricing and energy
Elsewhere, the trade deal offers more of a mixed bag, that presents both risks and undoubted potential opportunities, depending on how much further governance and institutional machinery is deployed to bolster the agreement.
On carbon pricing, the UK and EU must have systems in place – in both cases an emissions trading scheme (ETS) – to regulate greenhouse gases from major industry and energy facilities with immediate effect, both of which should also cover aviation by the end of 2023, the agreement states. The UK has now exited the EU's ETS and is currently setting up its own domestic system, but the deal commits both parties to "give serious consideration to linking their respective carbon pricing systems" in future. Linking the two systems would widen the market, potentially offering a boost to both business and emissions mitigation efforts, and paving the way for further linkages with other cap-and-trade systems worldwide.
Given both parties are targeting net zero by 2050 and have closely cooperated within the same ETS for years, it would seem a natural partnership – but with no timeline in the agreement, any progress on this issue could be some time away and could yet fall foul of some Brexiters opposition to any and all co-operation with Brussels.
Meanwhile, although the UK is no longer a member of the EU's Internal Energy Market, both parties have agreed to create a system aimed at ensuring smooth ongoing trade of electricity via undersea cables, which is widely seen as crucial to building a lower carbon, lower cost, and more flexible grid. Both have also explicitly reaffirmed their 2030 renewable energy targets in the deal.
To that end, the deal commits to establishing a new "Specialised Committee on Energy" and a new "multi-party agreement on energy" in order to oversee tariff-free trade between the two parties in future. However, beyond these provisions many of the details governing energy in the deal are still to be negotiated, and the energy sector is therefore likely to be keeping a keen eye on progress from here.
"It's important that our future arrangements with the EU's energy market allow us to trade power in a way that maximises the benefits of the interconnection with EU countries, so we can export our surplus power and import flexibly to support our energy system when necessary," said Luke Clark, RenewableUK's director of strategic communications.
4. Environmental standards and non-regression
Arguably the top issue for green groups throughout the Brexit period has been to ensure the UK's exit from the EU does not lead to a so-called 'race to the bottom' on environmental standards that would allow more freedom for polluters.
Greener UK – the coalition of 13 environmental groups that has been campaigning for as 'green' a Brexit as possible – has repeatedly called for a 'non-regression' commitment to be included in both the deal, and in UK statute, to provide legal backing to the government's promise that it would not weaken green standards after Brexit.
But the government's steadfast desire to be free of regulations governed by the European Commission and reclaim sovereignty threatened to derail trade deal talks altogether on numerous occasions, with Brussels insistent the UK must accede to some form of level playing field mechanism if it wants to trade in across Europe tariff-free.
At the very last moment, a compromise of sorts was reached. The deal does include a non-regression mechanism committing both parties to upholding worker and environmental standards. Crucially, however, the text of the document only promises to uphold environmental standards where weakening them would impact on trade or investment between the two parties.
It means that, in cases of dispute, the case would need to be made that weakening environmental standards and regulations would not also weaken trade and investment. But how, for example, might water quality regulations be proven to significantly impact on trade and investment? As Greener UK has pointed out, the test for trade and investment impacts is "notoriously difficult to prove and has been ineffective in previous trade agreements where it has been used, creating doubt about whether it can be a barrier to lower standards in future".
As a result, think tank IPPR decried the deal for leaving environmental protections "at serious risk of erosion", as the new process agreed for safeguarding a level-playing field between the EU and UK "sets such a high bar for proof that key elements are likely to be enforced only rarely".
Elsewhere, the trade deal does also include provisions for so-called "rebalancing measures" that would allow both the EU and UK to implement counter measures where divergence on standards is shown to materially impact trade or investment in a negative way. But the details underpinning this commitment – including a promised independent arbitration panel – are also yet to be thrashed out.
In short, the trade deal "does not provide a lot of certainty going forward" as much remains to be worked out on precisely how adherence to environmental standards in trade will be governed, according to Greener UK's Sarah Williams.
"It is good to see an enforceable commitment to non-regression, but we would obviously have preferred it not to have just related to trade and investment impacts," she tells BusinessGreen. "What is 'significant divergence'? What is 'reliable evidence'? It's those sorts of things that we will just have to wait and see on, really, going forward."
For its part the government has repeatedly insisted it has no intention of diluting environmental standards and is committed to world-leading green governance. However, opponents of ambitious environmental policies and proponents of deregulation have been emboldened by the deal, while environmental campaigners fear the government's good intentions could be quickly derailed by short term political considerations and the under-funding of key green agencies.
5. Is the UK prepared?
Even with the a trade deal now in place, the UK still has a huge amount of work to do in order to get its own house in order for life outside the EU. After all, outside the jurisdiction of the European Commission and EU Court of Justice, the UK now needs domestic institutions and governance structures to oversee and enforce its own standards for the environment, chemicals, and a host of other areas. Yet, well into the UK's first week outside the EU, much of this infrastructure is not yet fully up and running.
What's more, at a time of intense economic strain for the UK as it battles the escalating coronavirus crisis, there are growing concerns surrounding funding for all the new agencies that will be required. Last week a letter from Environment Agency chair Emma Howard-Boyd to the government emerged, in which she warns that the Agency's "capacity to visit and tackle polluting businesses is now significantly reduced" and that it "now has only the resources to attend the most serious environmental incidents". Howard-Boyd's letter, obtained by The Times, adds that key indicators of environmental health are flatlining or deteriorating, with serious incidents up 27 per cent between 2017 and 2018.
Against this backdrop, the Environment Bill is now unlikely to pass into law until the Spring, and the much-vaunted Office for Environmental Protection (OEP) watchdog for UK environmental standards and targets is not yet up and running. Until its new chair Dame Stacy Glenys takes up the role in February, an Interim Environmental Governance Secretariat is being set up within Defra to operate on a temporary basis.
As such UK environmental governance arrangements are "massively behind", according to Williams. "It's a pretty worrying period," she says.
However, despite the obvious teething difficulties and legitimate concerns about the government's future plans, the trade agreement is undoubtedly better than no-deal, and with much still to play for it offers a framework through which more ambitious climate and environmental elements could potentially be embedded in future. As Greener UK's analysis of the deal states "the agreement is light on mechanisms to promote shared ambition or joint environmental action, and leaves much for both sides to do to establish new ways of working together".
The hope is that the government will resist the temptation to deregulate and spark periodic trade wars with Brussels, and will instead stay true to its stated goal of accelerating the net zero transition and reforming farming subsidies to enhance the environment. But as far as the environment and the climate are concerned, the rollercoaster ride of Brexit is far from over.
Read more: businessgreen.com