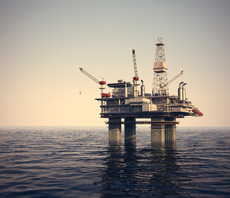 From lab grown meat to oil industry write downs, BusinessGreen brings together the biggest green business stories from around the world this week
Denmark cancels latest oil and gas exploration license round
The Danish government this week backed a Parliamentary proposal to end all oil and gas exploration and extraction in the North Sea by 2050 and immediately moved to cancel its latest licensing round.
A majority of parliamentarians had previously backed the proposal following the adoption last year of a target to slash emissions by 70 per cent by 2030. And in a deal agreed by lawmakers late on Thursday the government backed the 2050 target date for ending all extraction from the North Sea and cancelled a planned eighth licensing round and any future tenders.
"We are now putting a final end to the fossil era," Climate Minister Dan Joergensen said in a statement.
Helene Hagel from Greenpeace Denmark hailed the move as "a watershed moment" that would allow Denmark to "assert itself as a green frontrunner and inspire other countries to end our dependence on climate-wrecking fossil fuels".
Denmark is a relatively modest oil and gas producer, producing the equivalent of 103,000 barrels of oil and gas a day in 2019, compared with the UK, which produced 1.7 million barrels of oil equivalent last year and Norway, which produced 1.8 million barrels a day.
But campaigners hope the clear target date for ending extraction and the immediate end to exploration could provide a template for other countries to follow as they struggle to reconcile long term net zero targets with continued investment in oil and gas infrastructure.
Singapore approves lab-grown meat for sale in world first
Lab-grown meat produced in bioreactors has been approved for sale by a regulatory authority for the first time, paving the way for meat that is produced without harming an animal to be sold to consumers.
The Singapore Food Agency this week became the first regulator to approve a lab grown meat product, giving the green light to "chicken bites" produced by US company Eat Just.
The move represents a major boost to the fledgling cultured meat industry, which has seen dozens firms emerge that are striving to commercialise lab-grown chicken, beef, and pork. Advocates of the technology argue it has the potential to slash environmental impacts and reduce food costs, while producing meat that is essentially the same as that derived from animals.
The cells for Eat Just's product are grown in a 1,200-litre bioreactor and then combined with plant-based ingredients. The company said the product would initially be sold in a restaurant in Singapore and would boast a significant price premium. But it stressed that as it scales up production lab grown meat is likely to prove cheaper than conventional meat.
UN warns global soil health under threat
The UN has marked tomorrow's World Soil Day with the publication of a new report warning signifcant gaps in knowledge about soil biodiversity could present a threat to food production, human health, and climate change.
The report, titled The State of Knowledge of Soil Biodiversity, warns that despite the fact biodiversity loss is at the forefront of global concerns, biodiversity that is below ground is not being given the importance it deserves and needs to be fully taken into account when planning interventions for sustainable development.
"Soil biodiversity and sustainable soil management is a prerequisite for the achievement of many of the Sustainable Development Goals," said FAO Deputy Director-General Maria Helena Semedo. "Therefore, data and information on soil biodiversity, from the national to the global level, are necessary in order to efficiently plan management strategies on a subject that is still poorly known."
"We hope that the knowledge contained in this report will facilitate the assessment of the state of soil biodiversity as an integral part of national- and regional-level biodiversity reporting and any soil surveys," she added.
Soils are thought to host more than 25 per cent of the world's biological diversity, while more than 40 per cent of living organisms in terrestrial ecosystems are associated with soils during their life cycle. But such ecosystems are under growing threat from soil erosion and pollution, which experts warn could contribute to the biodiversity crisis and damage carbon sinks.
Fourteen countries sign up to sustainable fishing initiative
Governments responsible for 40 per cent of the world's coastlines have this week signed up to a new international agreement pledging to end overfishing and stop the flow of plastic pollution into the seas in the next 10 years.
Australia, Canada, Chile, Fiji, Ghana, Indonesia, Jamaica, Japan, Kenya, Mexico, Namibia, Norway, Palau, and Portugal said they would also end harmful subsidies that contribute to overfishing and step up efforts to combat illegal fishing while enacting new national fisheries plans based on scientific advice.
Exxon confirms writedown totalling up to $20bn
Exxon Mobil this week became the latest oil major to announce a huge writedown in response to the plummeting oil price and reduced demand outlook triggered by the coronavirus crisis and amplified by the accelerating shift towards clean technologies.
The company confirmed on Monday it would writedown the value of natural gas assets by between $17bn and $20bn, representing its biggest ever impairment. It also announced plans to slash project spending next year to its lowest level in 15 years, cutting spending back to between $16bn to $19bn.
However, any hopes Exxon may be preparing to emulate some of its peers and develop a long term decarbonisation strategy were quashed after the company said it planned to increase spending back above this year's level of $23bn by 2025.
Czech commission proposes 2038 coal phase out date
A national commission appointed by the Czech government has recommended the country should seek to phase out the use of unabated coal power by 2038.
Environmental campaigners had argued for a phase out date of 2033 while some industry groups had backed a 2043 date. But the independent commission of political, industry, and environmental figures opted to propose a date that would emulate the goal adopted by neighbour Germany.
The recommendation will now go to the government for consideration.
Industry Minister Karel Havlicek said the recommendation would be reviewed again at least once in the next five years. "The year 2038 is not only a compromise among all groups in the commission, but it clearly results from economic, technological and ecological assumptions in terms of building new resources," he was quoted as saying by Reuters.
Influential report aims to curb financing for polluting Chinese projects
China's environment ministry reportedly this week published a study calling for carbon intensive projects under the government's 'Belt and Road' infrastructure drive to be placed on a financing 'black list'.
In a further sign of the government's desire to back up its recent net zero goal with more ambitious climate policies, the report suggested projects should be classified based on their pollution, climate, and biodiversity impacts. The ratings would then seek to discourage banks from supporting projects that harm the environment.
Bank of America becomes latest major US bank to rule out funding for Arctic drilling
US environmentalists were celebrating this week after Bank of America has reportedly joined its peers and ruled out funding for new drilling in the Arctic, including the Arctic National Wildlife Refuge.
Goldman Sachs, Morgan Stanley, Chase, Wells Fargo, and Citi have all announced similar policies this year, leaving Bank of America facing mounting pressure in recent months from Indigenous communities, environmental advocates, and shareholders to follow suit.
"It has long been clear that drilling in the Arctic Refuge would trample Indigenous rights, threaten vulnerable wildlife, and worsen the climate crisis," said Sierra Club senior campaign representative Ben Cushing. "Now that every major American bank has stated unequivocally that they will not finance this destructive activity, it should be clearer than ever that any oil company considering participating in Trump's ill-advised lease sale should stay away."
The Trump administration is rushing to hold a lease sale in the delicate coastal plain of the refuge ahead of President-Elect Biden's inauguration. But with leading financiers declining to back projects in the region and Biden having pledged to protect the Arctic Refuge from drilling campaigners are hopeful any new drilling can be blocked.
"The Trump administration has never even pretended to care about the Indigenous communities whose human rights would be threatened by the destruction of the coastal plain, but major financial institutions are listening to us," said Gwich'in Steering Committee Executive Director Bernadette Demientieff. "We will never stop fighting to protect the sacred calving grounds from destructive drilling, and we will prevail."
Read more: businessgreen.com