The Academic passage 'Freeganism' is a reading passage that appeared in an IELTS Test. Read the passage below and answer questions 1 – 14. Beyond the questions, you will find the answers along with the location of the answers in the passage and the keywords that help you find out the answers.
Freeganism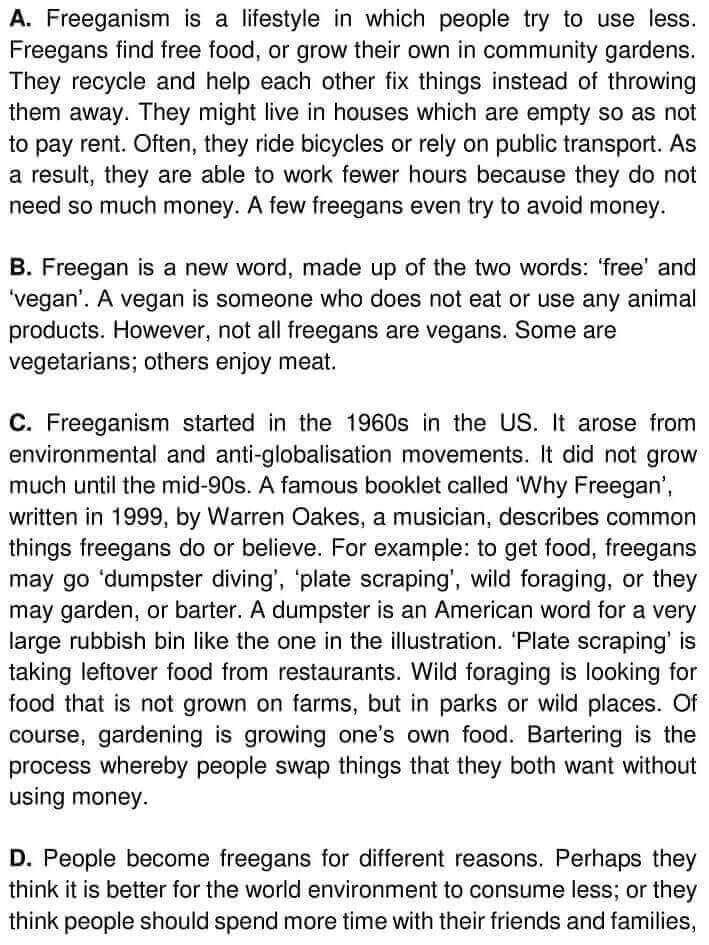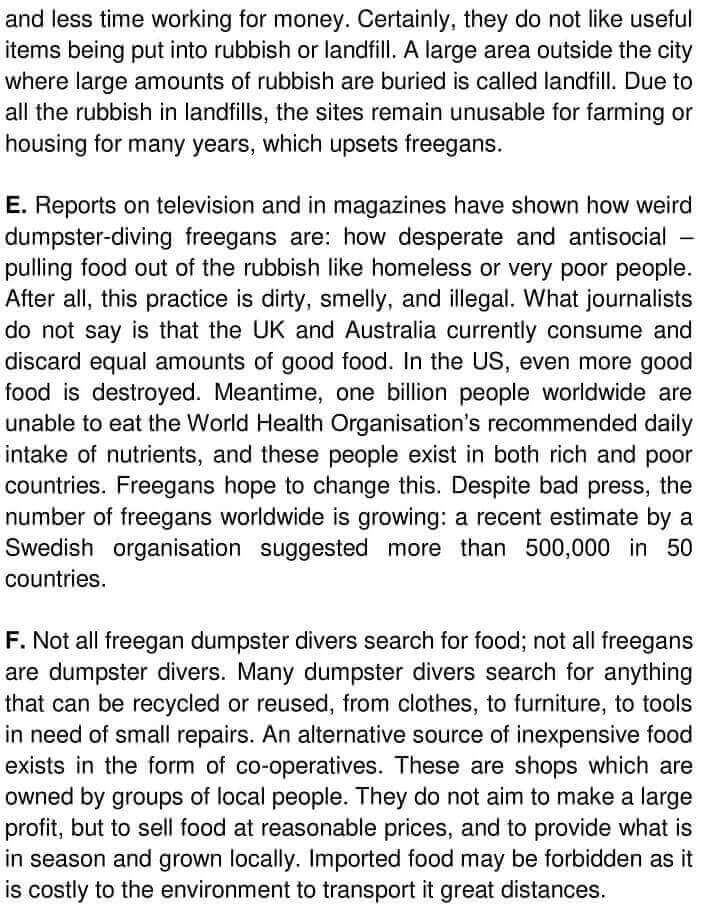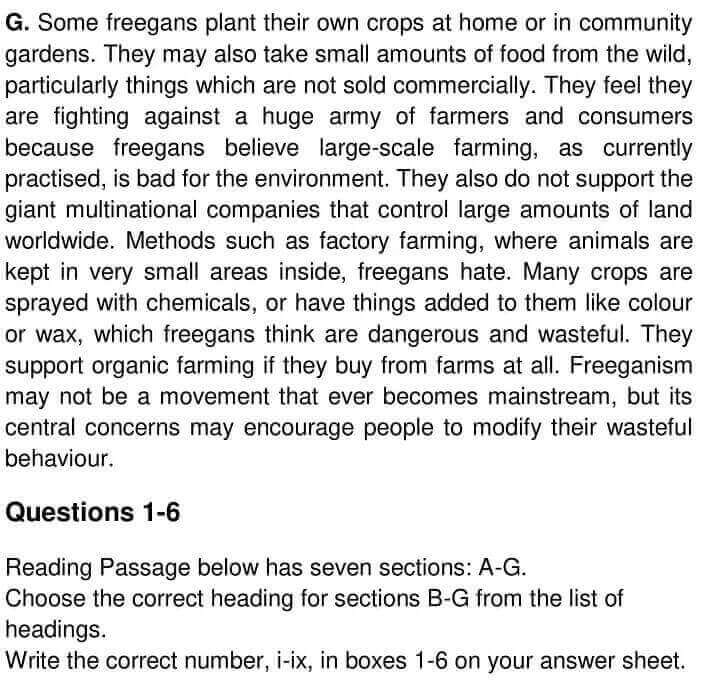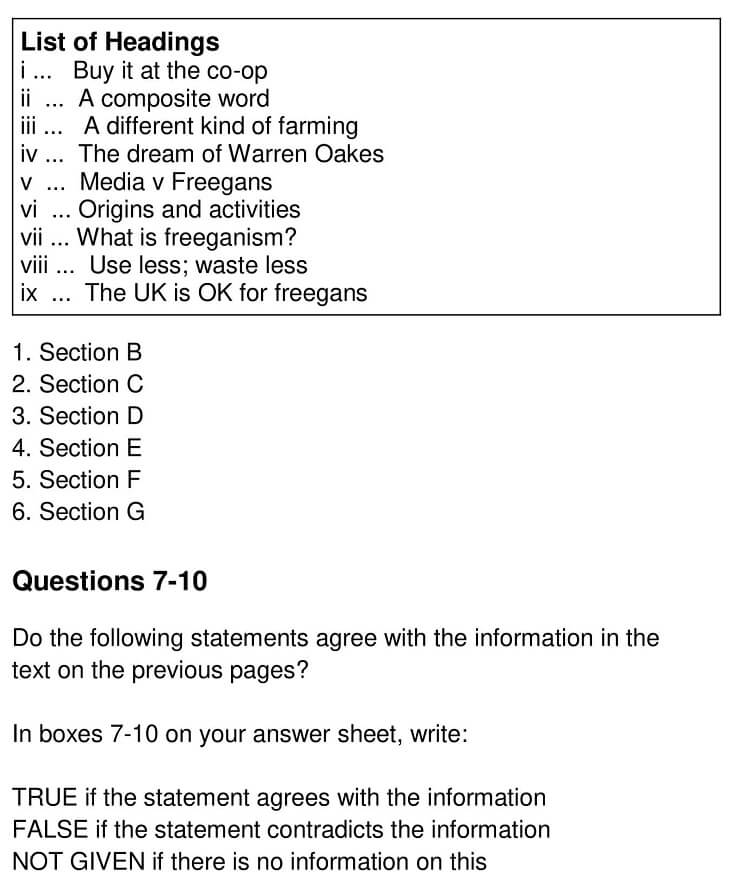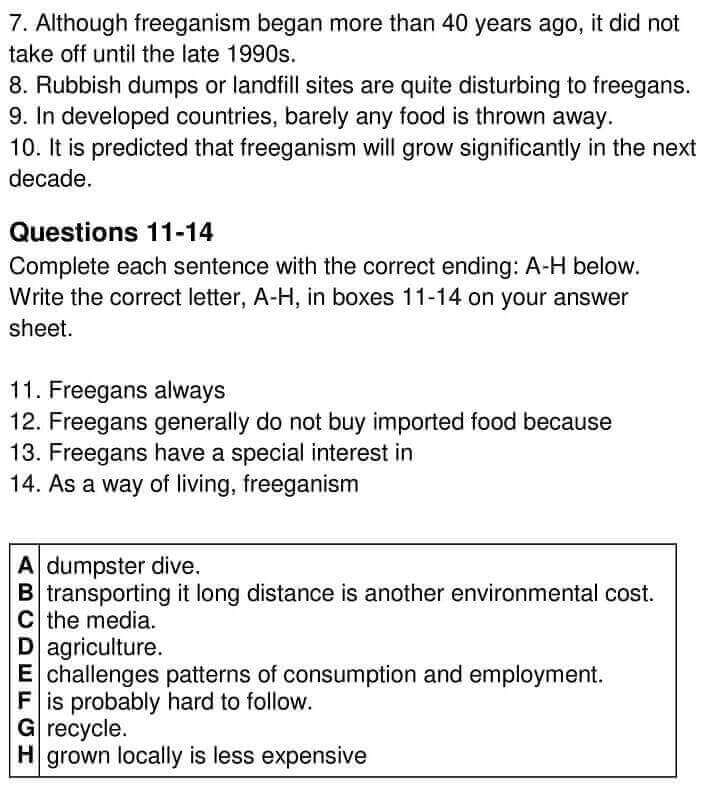 Answers
Question number
Answer
Keywords
Location of keywords
1
ii
Freegan is a new word, made up of the two words: 'free' and 'vegan'.
Paragraph B;
Line 1
2
vi
Freeganism started in the 1960s in the US.
&
For example: to get food, freegans may go 'dumpster diving', 'plate scraping', wild foraging,
or they may garden, or barter.
Paragraph C;
Line 1
&
Line 5
3
viii
People become freegans for different reasons. Perhaps they think it is better for the world environment to consume less;
Paragraph D;
Lines 1 – 2
4
v
Despite bad press, the number of freegans worldwide is growing:
Paragraph E;
Last line
5
i
An alternative source of inexpensive food exists in the form of co-operatives.
Paragraph F;
Line 3
6
iii
They support organic farming if they buy
from farms at all.
Paragraph G;
Line 7
7
FALSE
Freeganism started in the 1960s in the US. It arose from environmental and anti-globalisation movements. It did not grow much until the mid-90s.
Paragraph C;
Lines 1 – 3
8
TRUE
Due to all the rubbish in landfills, the sites remain unusable for farming or housing for many years, which upsets freegans.

Paragraph D;
Last line
9
FALSE
. What journalists do not say is that the UK and Australia currently consume and discard equal amounts of good food. In the US,
even more good food is destroyed.
Paragraph E;
Lines 3 – 4
10
NOT GIVEN
–
–
11
G
They recycle and help each other fix things instead of throwing them away.
Paragraph A;
Line 3
12
B
Imported food may be forbidden as it is costly to the environment to transport it
great distances.
Paragraph F;
Last line
13
D
Some freegans plant their own crops at home or in community gardens. They may also take small amounts of food from the wild, particularly things which are not sold commercially.
They feel they are fighting against a huge army of farmers and consumers because freegans believe large-scale farming, as currently practised, is bad for the environment.
Paragraph G;
Lines 1 – 3
14
E
Perhaps they think it is better for the world environment to consume less; or they think people should spend more time with their friends
and families, and less time working for money.
Paragraph D;
Line 2
Also check :
IELTS Reading
True False Not Given IELTS Reading
IELTS Reading recent actual test
Tips to Improve IELTS Reading Skills
IELTS Academic Reading test papers with answers pdf
Read more: feedproxy.google.com