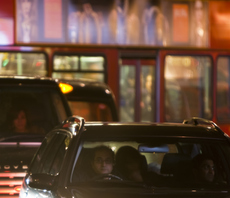 Fresh analysis suggests 'Chelsea tractor' stereotype holds true with gas-guzzling SUV sales largely concentrated in UK town and cities
The UK's advertising industry has been accused of pushing "persuasive and dishonest messaging" that encourages city and town dwellers to buy large, carbon-intensive cars they do not need, following fresh analysis revealing the overwhelming majority of SUV purchases are registered to urban addresses.
Around three quarters of all sports utility vehicles (SUVs) sold in the UK in 2019 were registered to urban addresses, with three inner London boroughs – Kensington and Chelsea, Hammersmith and Fulham and Westminster – the top three districts for residents buying larger cars, according to joint research published this morning by climate charity Possible and think tank New Weather Institute.
Such vehicles, which sometimes offer four-wheel drive capability designed for off-road driving, are significantly more carbon intensive that regular cars due to their bulkier frames and higher fuel requirements. The report estimates SUVs produce roughly 25 per cent more CO2 than than the average medium-size car, and there are concerns the ever-expanding fleet of SUVs is canceling out decarbonisation gains achieved from shifting to electric vehicles (EVs). The International Energy Agency (IEA) has previously identified SUVs as the second biggest source of the global rise in carbon emissions since 2010, after the power sector.
The two groups behind today's report have therefore called for an outright advertising ban for cars with emissions exceeding 160g of carbon dioxide per kilometre, or with an overall length exceeding 4.8m, arguing the move would help curb the 'dirtiest' third of the UK car market from being pushed to consumers.
The report accuses the advertising sector and car manufacturers of deliberately cultivating consumer demand for vehicles that are "far bigger and more powerful than their typical buyers could ever need in practice" through campaigns that claim SUVs have superior safety and environmental benefits than smaller vehicles, while allowing people to 'get back to nature' and explore the great outdoors.
"One of advertising's biggest manipulations has persuaded urban families that it's perfectly 'normal' to go shopping in a two-tonne truck," said Andrew Simmons, co-director of the New Weather Institute and report co-author. "They've spun the 'Chelsea tractor' factor into behaviour change, but the human health and climate damage done by SUVs is huge and needs to be undone."
True to the 'Chelsea tractor' stereotype, more Range Rovers were sold in Kensington and Chelsea anywhere else in the UK, according to the report, which notes that that one in ten new cars registered in the borough was that brand of vehicle.
Robbie Gillett, campaigner at climate charity Possible, and report co-author pointed out the surging use of SUVs on urban roads came at the expense of the environment and other road users. "Advertisers lured us into focusing on the safety and spaciousness of these vehicles, and to overlook that these benefits come at the cost of other road users who consequently are less safe and have less space," he said. "Advertising agencies working on SUV ad campaigns need to end their role in promoting harmful and polluting products."
But trade body the Advertising Association hit back at some claims in the report, arguing many examples cited in it focus on the US motor vehicle advertising, which it said was "very different from the UK, where SUVs are a far lower proportion of the overall vehicle market". It also suggested the report had not properly taken into account other factors which would make such vehicles more attractive to buyers, such as family size, disposable income and transport usage, and pointed out that "we are already seeing many more ads for electric vehicles".
"It is important to recognise that advertising drives competition, innovation and growth and is used by businesses to both build market share and promote new services and products over others," the trade body said in a statement. It also highlighted its recent Ad Net Zero initiative which aims to reduce the carbon impact of the development, production and distribution of advertising to real net zero by end 2030, and to encourage advertisers and agencies to measure the direct and indirect carbon impact of their campaigns.
"The advertising industry recognises the role it can play in promoting a more sustainable future," the Advertising Association's statement adds. "We know from our own research that the hundreds of thousands of people who work in UK advertising see taking positive action on climate to be the most important thing they can do to make a valuable contribution in this battle."
Elsewhere, today's report also seeks to place the role of the role of the Advertising Standards Authority (ASA) under the spotlight, calling for renewed climate commitments from the regulator which it argues has failed in its stated aim to prevent misleading and harmful advertising.
But Matt Wilson, media and public affairs manager at the ASA, told BusinessGreen the regulator had done a "lot of work" in recent years clamping down on greenwashing claims in advertising and that work was underway exploring how ASA regulation could be updated in line with growing concerns about climate change, environment and the issue of overconsumption.
"We have an absolutely clear commitment to putting environmental claims – and our regulation of environmental claims – on a much stronger footing in terms of the rules that already exist," he said. "We're looking to explore how we can regulate it even more effectively. But the banning of high carbon products is not something we could provide, the government would have to intervene on that front."
Wilson also refuted an allegation in the report that the ASA suffers from "bias" towards car manufacturers and should therefore be restructured. "We ban ads that break the rules, and we have a catalogue of examples of where we've intervened against the biggest car manufacturers in the world," he said. "There's no bias there, we intervene where the rules have been broken and ads are untruthful."
BusinessGreen has also approached the Department for Digital, Culture Media and Sport for a comment on the report.
With less than a decade until sales of all fossil fuel vehicles – including gas guzzling SUVs – must end altogether in the UK, pressure is mounting on the industry to shift lanes into the electric vehicle market. In the meantime, however, SUV popularity remains strong, and more work is needed to make zero emissions alternatives attractive to those city dwellers fueling the surge in sales of large cars in urban areas.
Read more: businessgreen.com